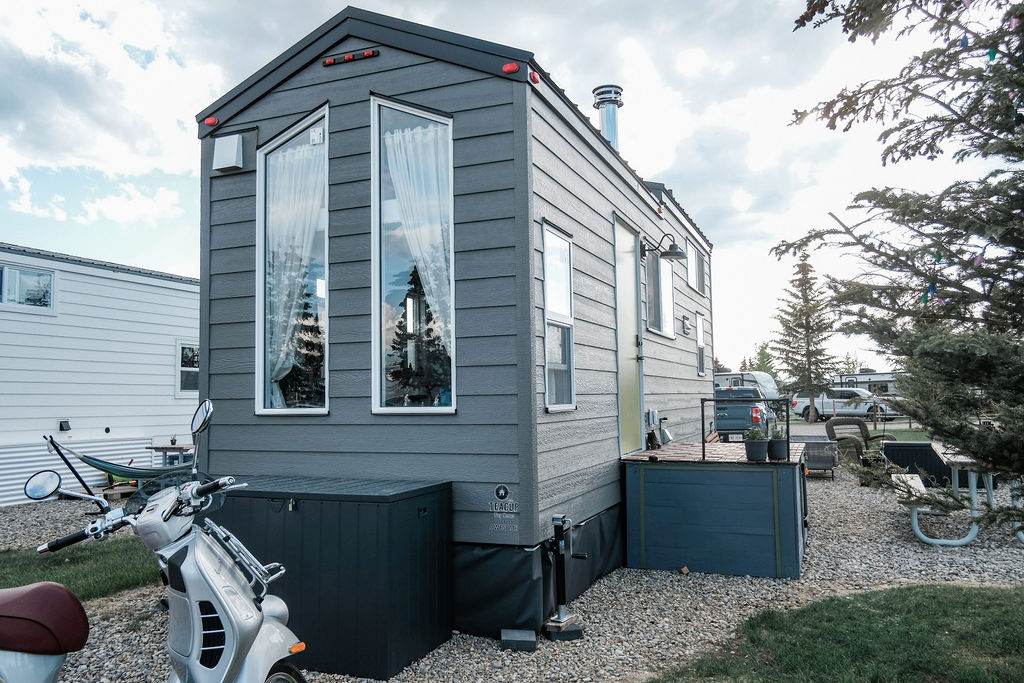 Lorraine lives in Spring Hill RV Park in Alberta in her Teacup, where two other tiny home owners are also renting on-site lots. She's part of a unique local community, paving the way for tiny homes around Canada.
"I moved into my tiny home on the 10th of November. When I realized I had my tiny house and I was turning everything on, I was like, 'Oh my gosh!'"
Having jumped in at the deep end, starting her solo tiny home life right at the beginning of winter, Lorraine had to learn quickly. We asked her what it's like to park a tiny home in an RV Park in Alberta.
"My biggest surprise was the support I got from the community!"
A diverse community with a big heart
"It was winter and I was so new to it. You're not sure how things work or even how to get everything set up. It was really nice having other people who were living here full-time, too. They help you out."
"One day, I came back from a trip and I didn't have the utility box cover on the pedestal which houses the water and the power. So my hose obviously froze. My neighbours were amazing. They took my hose and put it in their bathtub to melt it. Before long, it was ready to go."
"It was nice having everybody there. And then having other RVs that were having that issue. I instantly found out that the tiny home was really good quality and not having some of the issues that others were having. And anything else – we figured it all out as we went along."
Soon after moving into her tiny home, Lorraine had another challenge to overcome – she was in a car accident that left her without a car and her physical strength and mobility affected as well.
"The car was totalled. I made it back to the park and my neighbours ran out right away and helped me get out. They helped me do the things that I was unable to do while I recovered. It was amazing. I had never had that kind of community before that time."
"We're all sort of similar in the way we like to live. But it's a neat little diverse community – there are people of all different ages here. For example, the kids next door run around and play all the time. It's a little bit of a throwback to better times. We always say 'Hi!' and wave and keep an eye out for them. One of the girls was riding her bike and ended up slipping in the gravel right outside my house. We all ran out and made sure she was okay."
She also tells the story of a sweet neighbour who volunteered to build entry steps to her tiny home after she was initially using a picnic table as an improvised temporary solution. "He was in a fifth-wheel at the park and he has family nearby so I ended up hiring him to build my steps. He designed the steps and actually put storage on them. He built and painted it. They knew I had a green door so they tried to match the colour."
Lorraine also enjoys the shared amenities of the park – the convenience of the central shower facilities if she needs a backup to her own shower and the shared laundry room. In fact, she says that the park keeps their laundry room so clean that she prefers doing her laundry there and does not even use the laundry hookups in her tiny home. She finds the price ($3 a load) comparable to what she would have spent on electricity anyway and has enjoyed meeting other park residents in the shared space.
Tiny home vs. RV living
Lorraine's community is made up of year-round residents as well as seasonal and vacation visitors.
"I think there were over 50 RVs staying here over winter. Most people stay for shorter times – campers, seasonal workers that might be working as a construction crew or something. I guess tree planting companies would be here as well. But there's also several retirees who stay for the whole winter, and then there's a few families."
While there are several other tiny homes in the park, most of Lorraine's neighbours live in RVs. We wondered if, after seeing her tiny home, any of them were considering making the switch.
"I don't know, but they're curious. They've paid just as much for an RV as a tiny house. One RV near me really struggled over winter. He had issues with plumbing or toilet sewer lines being frozen. I think I was much more comfortable because tiny homes are so well insulated. I just didn't have any of those issues. Maybe I'll convert some of them, and bring them over to my side of the world!"
Can you live year-round in a tiny home in an RV park?
You most certainly can. An all-season RV park is one of the best ways to do this if your tiny home is on wheels and has RV-style hookups for electricity, water, and sewer.
When Lorraine's initial plans to rent land privately fell through, she needed a quick solution. She called a few RV parks to find out if she can park her tiny home there year-round.
"There are a couple of areas that just wouldn't entertain a tiny home. It was a flat out 'No!' in the first minute when I called some places!"
However, when she called Spring Hill, the process was simple and straightforward. "I had to send the schematics of what it would look like so they knew if there was anything that they had to worry about. They were wondering what to expect cosmetically, too."
"It was hard to find an RV park that offered water services. Most had a sewer and power but no water. So, being here at Spring Hill with all three – it wasn't even a question."
After a quick phone exchange and a $40 deposit, the RV park held Lorraine's spot until her tiny home was ready. She now pays $1,175 a month.
"I think it's a great way to start. I'm hoping I'll be here for the next two or three years."
You can follow Lorraine and her tiny home on Instagram.
A quick, direct and safe option for tiny home parking
In short, an all-season RV park has been the choice of many Canadian tiny home owners. Many such parks are located close to urban centers and already have the necessary infrastructure and legalities to house mobile homes. Instead of dealing with potential municipal headaches or long-term lease contracts, tiny home owners opt to pay in one- or three-month installments to an already established business.
We were happy to learn that, besides the convenience, it's possible to find support and community in these parks as well! An RV park might not be the long-term solution you're looking for but in terms of getting your feet underneath you and grasping the ins and outs of tiny living? Why not!